The Plasencias have a reputation for making some of the world's best cigars, but do you understand how they achieved that status?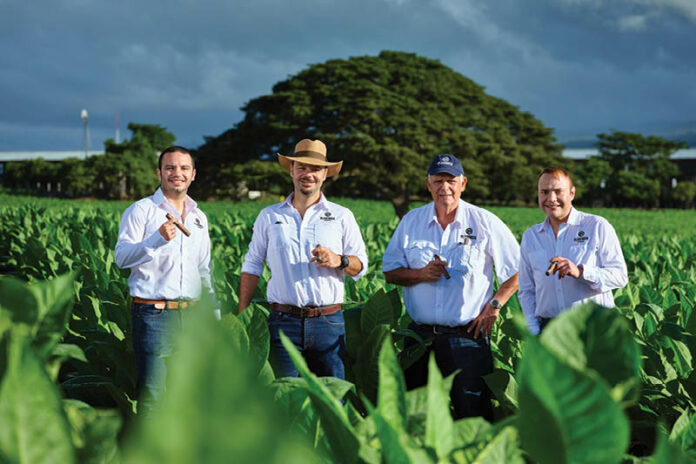 300 hands. That's a long-standing statistic shared throughout the cigar industry, and it relates to the production process that a single cigar passes through on its journey from seed to shelf. It's a stat that gets lost among press releases, ratings and reviews, yet without those 300 hands, cigars as we know them would not exist.
The Plasencia family has long been focused on the art of cigar making. This goes well beyond the technique of cigar rolling. It's about tobacco growing and cigar manufacturing. The Plasencia family has a long history with tobacco, and many have come to them over the years to help make them a cigar. The Plasencias have answered the call and delivered many unforgettable cigars, all of which are made with tobaccos that they've grown that are blended together to create a cigar that's smoked and appreciated by cigar enthusiasts of all experience levels. How do they do it? With a focus on quality, whether it's in the tobacco they grow or the way they run their various factories.
"It is no secret that achieving a great-quality cigar requires great tobacco behind it," explains José Luis Plasencia, vice president of Plasencia 1865. "The investment in any particular crop, from seed selection to harvest, is considerable. When you also consider that our Plasencia lines utilize tobacco aged between eight and 10 years, you can see how long it takes to achieve any return on that initial investment, but the quality we are able to achieve makes it all worth it."
For many cigar smokers, the work that goes into growing the tobacco and later taking that harvested tobacco and turning it into a blend and premium cigar remains a bit of a mystery. The only way to fully understand the process is to see it firsthand, yet there are few opportunities for most consumers—or even retailers—to visit a cigar factory or a tobacco field. José knows this is an issue, as he's seen his share of reactions over the years from those who have visited the Plasencia family's various factories in Nicaragua or Honduras.
"They are truly amazed and had no idea of what goes into the making of a cigar," he says. "Each step in this incredible process of growing tobacco and manufacturing a cigar with the quality we demand has become so detailed and specific that the majority of end consumers really don't understand until they see it and experience it for themselves."
The Plasencias have become known for their cigar-making abilities, but the bigger story is the family's long history of tobacco growing and its manufacturing practices that have become stronger year after year and generation after generation.
"The love story of the Plasencia family with tobacco began in 1865 when Eduardo Plasencia emigrated from the Canary Islands in Spain to Cuba," explains Nestor Andrés Plasencia, CEO of Plasencia Cigars. "At that time, the government of Cuba was expanding its tobacco growing areas and the islanders [isleños] had a reputation for very good growers, and he started with a very small area and gradually grew. A few years later, his nephew, Sixto Plasencia, joined him in working within the family business, and in 1865 Sixto went independent and started with his own crops. Then his children came and managed to become a very solid company in the San Luis Pinar del Rio area, which is where the best tobacco in Cuba is harvested and where my grandfather and his brothers provided tobacco for the most important factories in Cuba."
It's easy to say that tobacco is in the blood and ingrained in the Plasencia family—and has been for generations. Here's how the Plasencia family's focus on tobacco growing, sustainability and improving working conditions within its factories have helped make it a tobacco industry powerhouse.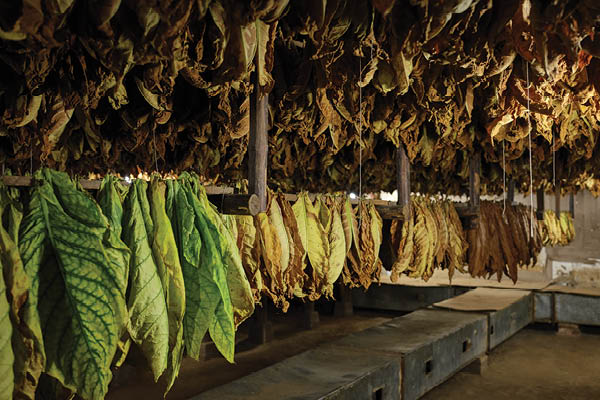 Rich Dirt
The Plasencias are known for growing quality tobacco that's used to make cigars for other companies as well as the family's own namesake brands. As demand for tobacco has increased over the years, the Plasencias have been able to increase the company's growing capabilities to meet that demand. Between Nicaragua and Honduras, the Plasencias are currently growing tobacco on approximately 5,000 acres.
Growing tobacco is one thing, but growing quality tobacco that's worthy of a premium cigar is another. "Like any other farming activity, we are, to a degree, at the mercy of nature," José Plasencia explains. "Rain at the 'wrong' time of year, not enough rain and hurricanes provide more than enough challenges. Pests can be more aggressive in some years as well."
Certain conditions must be present in order for a crop to have the chance to become great. Soil preparation, good weather, proper irrigation, proper fertilization and harvesting in the right way at the right time all contribute to the quality of a tobacco crop. When speaking about the challenges encountered while growing a crop, José Plasencia says that the tobacco used in the company's Reserva Original line is the most challenging to grow because it requires different processes to ensure the quality and that it's grown using organic methods. For a normal crop, Broadleaf tobacco can be a challenge to grow because it is the most susceptible to black shank, a disease that can destroy an entire crop if not properly managed.
Sustainability isn't a word you hear a lot associated with tobacco growing, but it's an important initiative within Plasencia. Concentrating its efforts on maintaining the quality of the soil its tobacco grows in, as well as its water resources, is the "secret" to what sets Plasencia's tobacco apart from others in the industry.
"We want to ensure that the future Plasencia generations have rich soils, which will enable them to continue working in this beautiful industry and have the ability to continue producing high-quality cigars," José Plasencia explains.
Plasencia also incorporates earthworm castings as a way to replenish the soil. Tobacco grows very fast, and as the Plasencias have analyzed the soil the tobacco is grown in each year, they've noticed that the nutrients in the soil were on a downward track.
"Instituting the organic castings reversed the downward trend, and the soil recovers much faster following the harvest and soil preparation. This leads to a higher yield of production," José Plasencia explains. As the soil becomes richer, so does Plasencia's tobacco crops.
Another sustainable practice the Plasencias have implemented is a drip fertigation system. With this system, the Plasencias are able to fertilize and irrigate their crops at the same time. They've been able to fine tune both the amount of water and the amount of fertilizer given to each plant. This maximizes the crop's yield while conserving the company's resources. According to the company, it has been able to reduce water consumption by 50 percent and has increased its yield by approximately 25 percent using this method.
"We believe that by applying all of these different techniques of conservation and improvement of natural resources, the quality of our tobacco is enhanced, and as a result, so is the quality of our cigars," he says. "It is amazing what the earth can give when you take good care of it."
Another important factor in determining the potential quality of a tobacco crop is one of the most important parts of tobacco growing: making sure there's a good team tending to the crops and handling the tobaccos that have been harvested each year.
The Vertical Integration Advantage
One of the most common issues encountered on the factory level is concerning employee retention. This issue is made even more complicated due to the fact that the Plasencias own multiple factories, each of which has its own staffing needs. The Plasencias address this issue of retention by providing things that other cigar factories do not. These include amenities such as child development centers, health clinics, and training programs that help employees grow professionally and personally. Since implementing these different initiatives within its factories, the Plasencias have seen a substantial improvement in employee retention. Employee retention and making its factories a place where people will want to work is an ongoing area of concentration for the family.
When including Plasencia's tobacco processing and cigar manufacturing operations in both Nicaragua and Honduras, the company has 5,500 people working in its factories. Tobacco continues to be the Plasencia family's livelihood, and it has been for several generations. Cigars are how the family expresses their love and appreciation for tobacco. While some manufacturers simply grow tobacco and others make cigars or distribute and ship them, the Plasencias do it all, making them the go-to source for many in the cigar industry for their manufacturing needs.
"The fact of being vertically integrated has many advantages when it comes to our overall business. If I had to pick just one word: quality. But it's about much more," says José Plasencia. "By being vertically integrated, we are in a better position than most factories, as we have an inventory of raw materials to meet any increase in demand. We are able to control all aspects of our production. We choose the seeds to plant, [and] we choose the farms to plant in, the way we prepare and care for the soil, the hydration and fertilization, the procedures for drying and curing the tobacco when harvested, the aging process and, of course, the actual production of our cigars."
The Plasencias have four factories in Nicaragua and another four in Honduras. The Nicaraguan factories are located in the northern part of the country while the Honduran factories are located in the southern region of the country. There are both similarities and differences between the factories: the leadership behind the factories is the same, which creates consistency and quality in the products all of the factories produce. Differences come into play in terms of what lines each factory manufactures. San Marcos, a factory located in Honduras, manufactures all of Plasencia's 146 and Cosecha 149 lines. The other factories make cigars for other companies. In Nicaragua, there is one factory—Plasencia Cigars—that produces both the company's Alma Series and its Reserva Original lines. This is another advantage of owning and operating its own factory: being able to easily scale its manufacturing capabilities to handle the demands of its business.
"We are able to consolidate our management and production teams, which enables us to maximize each person or team's effectiveness, thus giving us an advantage over smaller companies or those that are not completely vertically integrated," states José Plasencia. "Additionally, we are able to lower production costs by eliminating expensive markups from middlemen and optimizing operations."
Because there are so many different roles and tasks taken on by the factory's teams, there is no "typical" day for anyone working in one of Plasencia's factories. Whether it be administrative personnel, a cigar buncher or roller, or someone who is responsible for sorting tobacco, each person plays a very specific role within the production and manufacturing process. The Plasencia family is well aware of how each person they employ plays a key role in the company's long-term success, so it's always important to them to ensure that all of their employees are well taken care of.
"We have a very professional team in our human resources department that listens to our workers' needs. For instance, we have a psychology department that helps to address employee needs and any issues that may present to the employee. Also, we have created our child development centers to provide care and education for the children of our employees. This removes a tremendous concern for the parents as they know their children will receive care and education in a safe environment. Additionally, we have a clinic that can address any physical issues or illnesses for the employee or their family members," José Plasencia explains.
When the COVID-19 pandemic forced Plasencia's factories to close for close to a month and a half, the Plasencias knew that their employee's safety had to take precedence. Once the factories were able to reopen and the employees returned, Plasencia implemented all of the policies recommended by the U.S. Centers for Disease Control and Prevention (CDC) in order to prevent the spread of the virus.
"Fortunately, our employees were able to adapt to all the changes and were able to maintain the quality of our product as well as meet production targets," says José Plasencia.
A lot takes place within the factory and tobacco fields, though little would be accomplished without a dedicated team of employees. The Plasencia family ensures its employees are well taken care of and are ready to move the company forward. Each factory has its own production goals that are set at the start of each new year. Every week, the company analyzes its key performance indicators to see whether or not it's on track to meet its goals.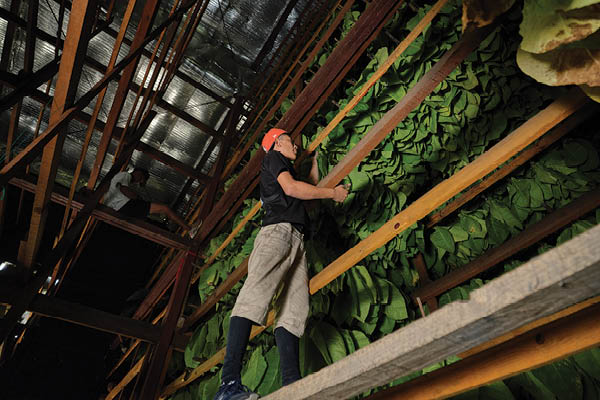 Peeling Back the Layers
The next time you light up a Plasencia cigar, know that your hour or so of enjoyment from smoking that cigar is the product of weeks, months and sometimes even years of work. Although the end product—the cigar—is impressive on its own, what's even more impressive is how that single cigar came to be. For the Plasencias, tobacco is their business, and cigars are an expression of their love and dedication for tobacco.
While the industry gets wrapped up in ratings and overly processed images posted to social media of cigars being enjoyed around the world, there's a lot of the cigar production process that's not being captured or spoken about. A lot of what makes Plasencia's cigars exceptional takes place not just in the humidor but in its tobacco fields and factories in Nicaragua and Honduras. Just as a cigar has layers to it, know that there's also a lot you don't see when it comes to how that cigar came to be, but often it's these unseen processes—these unknown "300 hands" and unsung dedicated artisans and growers—who are responsible for bringing to life these blends and premium cigar products smoked and celebrated around the world.
This story first appeared in the July/August 2022 issue of Tobacco Business magazine. Members of the tobacco industry are eligible for a complimentary subscription to our magazine. Click here for details.
– Photography courtesy of Plasencia Cigars. Story by Antoine Reid, senior editor and digital director for Tobacco Business Magazine. You can follow him on Instagram @editor.reid.