1865 - I Generation
Don Eduardo Plasencia left the Canary Islands in search of success and opportunity and started growing tobacco in Vuelta Abajo, Cuba.
1865
1898 - II Generation
Don Eduardo's nephew, Sixto Plasencia Juares, joined his uncle in the family's business.
1898
1920
Sixto Plasencia Juares expanded the business and opened the Corojal farm.
1920
1943
Sixto Plasencia Juares created "Hijos de Sixto Plasencia" (Sixto Plasencia's sons) and began to export and sell to bigger companies. His son, Sixto Plasencia Pérez, joined the family's business.
1943
1963
Due to the Cuban political turmoil, the farms were confiscated. Sixto Plasencia Pérez and his family fled to Mexico and later relocated to Nicaragua.
1963
1965
Starting again from scratch, Sixto Plasencia Pérez planted his best seeds in the fertile soils of Nicaragua.
1965
1978
Political turmoil in Nicaragua forced the family to move to Honduras. They were more determined than ever to persevere after being relocated yet again.
1978
1987 - IV Generation
Néstor Plasencia officially entered the cigar-making industry.
1987
1990
The Plasencia family moved back to Nicaragua and began operating in both Honduras and Nicaragua, increasing production.
1990
1995
The family consolidated its interests as one big cigar manufacturer. They purchased more land and factories, increased tobacco production, and began supplying it to their own factories as well as others.
1995
1998
Néstor Andrés graduated from agricultural school and began testing efforts to grow organic tobacco.
1998
2000
The Plasencia family successfully managed to grow organic tobacco and get it OCIA-certified. To this day, we are still the only OCIA-certified tobacco company.
2000
2005
The Plasencia family opened more factories in Nicaragua and Honduras, and continued to make more cigars and produce even more tobacco. Today, over 30 different brands trust Plasencia to produce their cigars.
2005
2010
The Plasencia family continued their sustainability practices and started initiatives to conserve water on farms by using fertigation systems and reducing water usage by 50%.
2010
2013
The Plasencia family opened their first preschool and childhood development center for the children of the employees and the local communities.
2013
2015
The Plasencia family became the largest tobacco grower for premium cigars in the world and continued growing their teams, factories, and plantations in Honduras and Nicaragua, producing 40 million cigars a year.
2015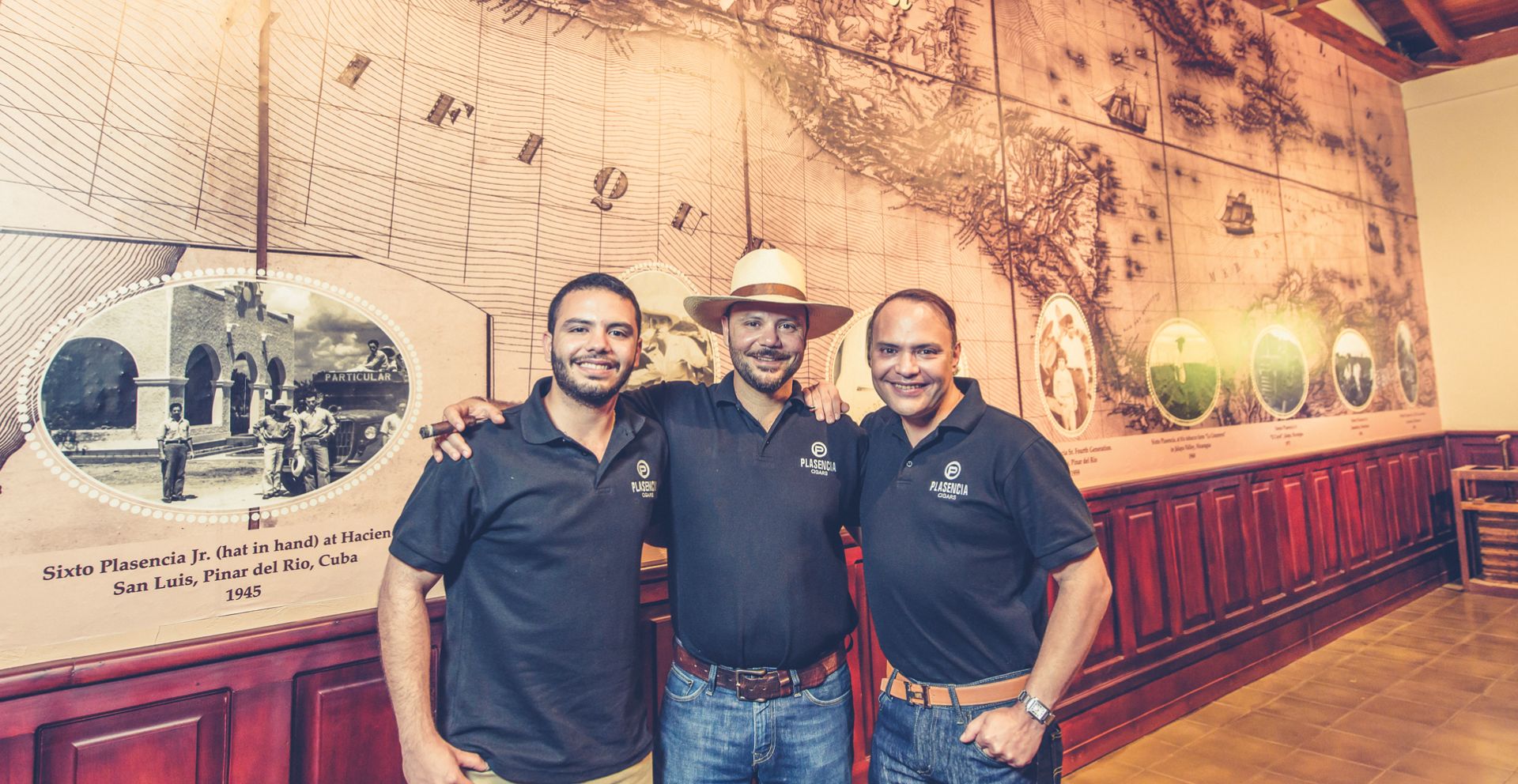 2017
Plasencia Cigars, the family's own brand, was launched. Néstor Andrés, Gustavo, and José Luis Plasencia introduced the Alma series, Reserva Original, and the Cosecha 146, among others.
2017
2022
Plasencia Cigars has brand presence in more than 80 countries. We continue our sustainability initiatives. We are still the only ones in the industry to produce certified organic tobacco and continue our mission to establish additional preschools and childhood development centers.
2022